Hot Springs, VA - Michael Sahouri was invited by the Community Associations Institute (CAI) to address an audience of business and community leaders at the Annual Virginia Leadership Retreat (VLR). The topic: Cognitive and Personality Testing in the Employee Hiring Process.
The Virginia Leadership Retreat
The Retreat is an annual three day event organized by CAI, whose mission is to inform, educate and provide resources for community associations throughout the country and around the world.
The VLR is hosted at the Omni Homestead Resort in Hot Springs, VA. This is where condo and homeowner association managers represented 10,000 Virginian communities and 30,000 volunteers to tackle challenges, share knowledge and meet like-minded professionals.
The extended weekend was packed with golf tournaments, networking, craft beer tasting, bingo, educational seminars and even fireworks!
There is no better way to connect with colleagues than by rubbing elbows with the icons who have made the industry great.
The Virginia Leadership Retreat

Education Takes Center Stage
Despite the impressive entertainment schedule, the educational opportunities at VLR are what really take center stage.
Subjects are taught by qualified professionals in the community association industry as well as thought leaders from different professions. Sessions included professional certification and recertification courses, business and professional development seminars, and a keynote address by Navy SEAL veteran and CEO of SOF Spoken, Lieutenant Jason Redman.
Cognitive & Personality Testing in Hiring Process
Michael Sahouri, CEO of Sahouri Insurance and Dave Ciccarelli, Vice President of Sentry Management were invited to speak on the impact of personality testing on the hiring process.
Their focus was on three practices that help businesses recruit smarter:
Relying on recruiters that understand your key differentiators
Identify cognitive and personality types that impact your business
Pre-screening candidates with personality and cognitive testing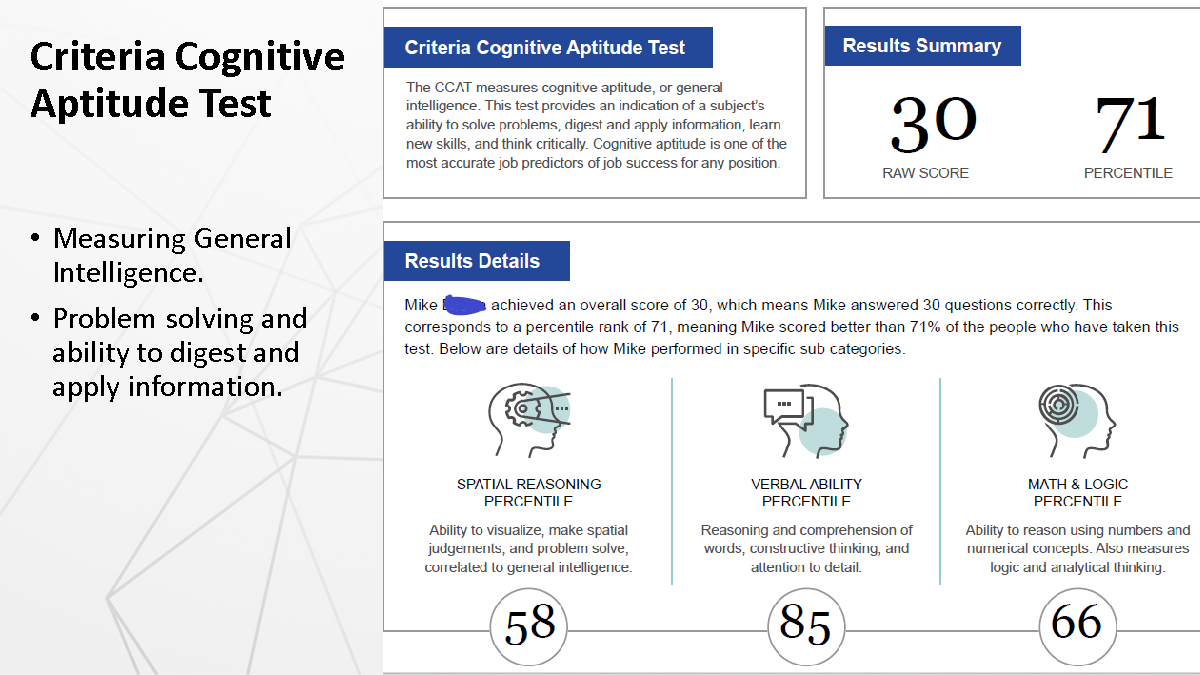 Example of a cognitive aptitude test results.

Cognitive & Personality Testing Done Right
A study by the Society for Human Resource Management (SHRM) found that relying solely on hiring assessments does not always deliver accurate indications of applicants' integrity or abilities. However, when coupled with a smart recruiter and an efficient screening process, your company is destined to find the talent and the character it needs in order to thrive.
Identifying the skills you need, working with the right recruiter, and then testing candidates' cognitive and personality types, is proven to help employers gain detailed, accurate insight into who they're hiring and how likely they are to make a positive long-term impact on the company.
Strategic insight into a candidate's key performance indicators also provides that applicant with feedback into their own standing and performance. Surveys identify their own strengths and weaknesses, potential areas of growth and how they stand against other applicants.
Evaluating Talent at Sahouri Insurance
These best practices are observed at Sahouri Insurance, where resources have been invested into recruiting the most talented insurance professionals in the industry who also possess character traits that reflect the company's organizational values.
"Our objective is to hire candidates who are strong, and make them stronger. While financial incentives work, we know that professional development and life skills take people further than a bonus ever will.
Michael Sahouri, CEO


By working with industry-focused recruiters and conducting pre-interview personality and cognitive tests, the agency's recruitment process filters out the strongest candidates based on a defined list of characteristics, skills and personality types that make up the criteria of an ideal employee.
This process makes life easier on the recruiters, the HR department, and ultimately, the team trying to fill a position. While finding the perfect candidates through a filtered recruitment process is hard enough, finding them without a similar system in place can prove to be extremely costly.
Sahouri and Community Associations
Led by Commercial VP Allen Hudson, the company's Condo and HOA program is an active member of CAI, with active participation in chapter committees and events.
Most recently, the team participated at the 2018 CRCCAI Golf Classic and the 2018 National CAI Expo and interviewed CAI's Chief Executive Officer on his journey, growth of CAI and much more.
Jen Clark's VLR Photo Gallery
Click on the image below to explore the best sights from the Leadership Retreat, find your photos and share the memories!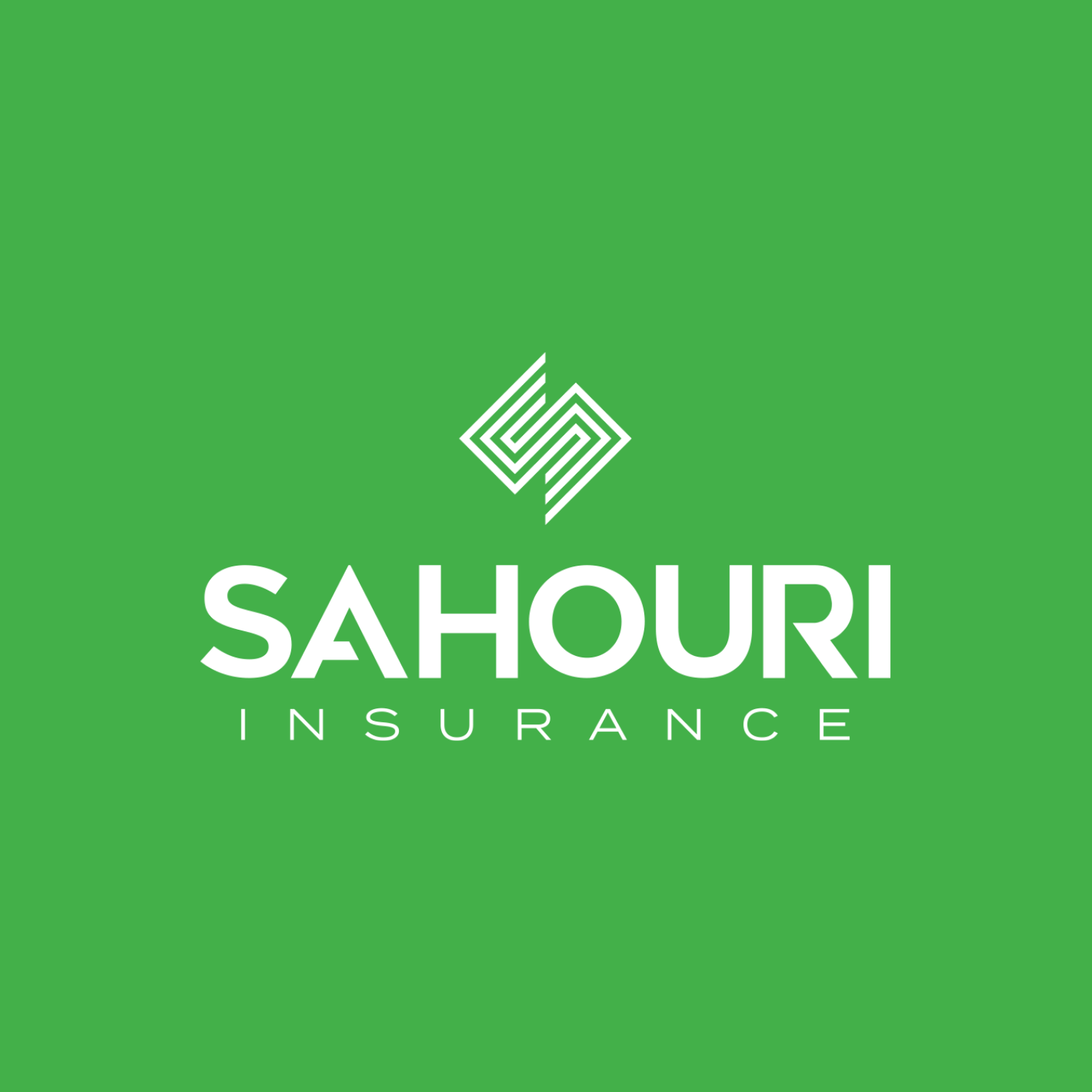 SAHOURI
As an independent insurance brokerage firm, we guide our Guests through a technology-driven, consulting-based experience that integrates corporate Risk, Health, and Benefits policies through one, centralized Advocacy Team.