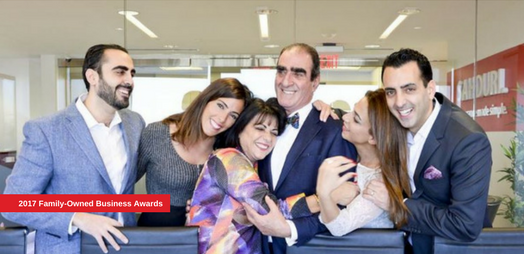 SAHOURI. is proud to announce that it is a recipient of the 2017 Family Business Awards. The awards honors multi-generational, family-owned businesses in the D.C. Metro Area for their overall excellence, innovation, ethics and philanthropy.

The Washington Business Journal recently published their interview with the Sahouri family. Here is a brief summary:
Sell the Business or Fight?
In the early 2000's, Fuad Sahouri warned his family that the insurance industry was at a crossroads. He predicted that by 2010, 80% of the local independent agencies would either be acquired or forced to shut down by big box brokers and insurance start ups investing in technology.

David vs. Goliath
Despite the purge in agency acquisitions and the numerous buyout offers, the family chose to carry on with delivering the principles that they felt the consumers still need.
They diversified their client base while staying true to their core value of providing real service with passion, empathy and dignity.
As a way to compete, the Sahouris created several solutions for underserved niche marketplace as the best way to expand their commitment to talent and technology.
In addition, they built a strong culture and environment, installed the right leadership and talent that propelled the agency into an industry leader for record-breaking growth, client retention and market share.


"We are uniquely positioned to help lead and transform this industry by revolutionizing the standards for what consumers should expect from insurance agents."
- Michael Sahouri, VP
---

We are disrupting the industry.
- Michael Sahouri, Vice President
---
A New Breed of Insurance Agents
Most people perceive insurance agents as old and boring; because its mostly true. The average age of Sahouri's leadership team is 30 years younger than the industry's average (62).
Working at Sahouri is everything BUT boring. The Sahouri family loves what they do. Their passion for protecting clients and taking this industry forward is infectious. That energy clearly reflects onto the team, as they deliver those values to clients on a daily basis.
The Movement
According to Insurance Business Magazine, 25% of active agents are expected to retire in 2018. The insurance industry is changing. Fast. Technology and automation are replacing human talent.
Sahouri is not sacrificing human talent for technology or vice versa. The agency is maintaining its commitment to recruiting the talent to best serve clients while implementing technology to make insurance simple.
This company's passion, swagger and vision for the future is changing the way you perceive insurance. We are the movement.
---
---