---
Washington DC - SAHOURI. is proud to share its involvement in planning Africa Day 2017 in partnership with the African Ambassadors' Group to the United States.

---
What is Africa Day?
Africa Day marks the anniversary of the African Union's establishment in 1963. Every year, African Missions and diaspora worldwide celebrate the occasion.
On May 25th, 50+ African ambassadors, along with hundreds of high-level diplomats, gathered at the Ronald Reagan International Trade Center in Washington D.C. to celebrate the African Union's 54th Anniversary.
The private and federal sectors were represented by the likes of the White House, Capitol Hill, the IMF and World Bank, Exxon Mobil, South African Airways, Procter & Gamble, Qualcomm, the Wilson Center and more.
The celebrations were complimented by an emphasis on contemporary challenges in an effort to improve awareness and development surrounding key issues in Africa. Last year, the theme was on female empowerment. This year's focus was on Harnessing the Demographic Dividend through Investments in Youth.
The African Union (AU)
The African Union (AU) is a continental organization consisting of all 54 African countries. The AU was established on May 26th, 2001 in Addis Ababa, Ethiopia. The AU makes its most important decisions at the Assembly of the African Union, a semi-annual conference hosting heads of AU member states.
The goals of the African Union are to:
Achieve greater unity and solidarity between African countries and people of Africa

Promote sustainable development at the economic, social and cultural levels
The African Ambassadors' Group
The African Ambassadors' Group (AAG) to the United States is a collaborative coalition of African heads of missions in Washington D.C.
The current dean is H.E. Serge Mombouli, Ambassador of the Republic of Congo. Every year, two Co-Chairs and a Treasurer are assigned to manage the Africa Day logistics, entertainment, protocol, etc.
This year's Co-Chairs were H.E. MJ Mahlangu, Ambassador of South Africa and H.E. Carlos dos Santos, Ambassador of Mozambique. The treasurer was H.E. Babacar Diagne, Ambassador of Senegal.
---
SAHOURI: A Proud Partner of the African Diplomatic Corps
SAHOURI. has been a long-standing partner of the African Diplomatic Corps to the United States, including the African Ambassadors' Group (AAG) and the African Defense Attache Association (ADAA).
The agency's partnership with Africa can be traced back to 1972, when the Embassy of Egypt became the agency's first diplomatic client.
Africa Day Washington DC
In collaboration with Africa Day Co-Chairs, SAHOURI. facilitated an event registration software used by the larger event planning companies in the world to streamline outreach and registration processes. This technology is especially used for large scale events with 500 - 10,000 attendees.
As a result, registration, on-arrival efficiency and overall guest experience was enhanced from save the date to on-site badge pick up.


---
Africa Day Sponsors & Partners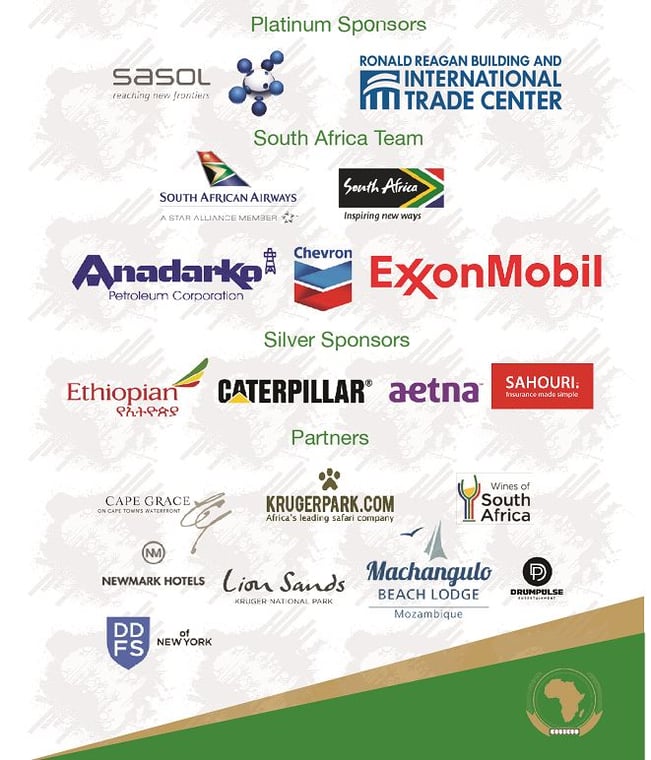 ---
"While the world's eyes are on Africa,
Sahouri's heart is with Africa."
- Fuad M. Sahouri | Founder & CEO
---