Life insurance is the arguably most important form of coverage a parent can invest in. Traditionally, it's the wage-earner who is expected to take out a policy to supplement the loss of his/her income at the time of death. However, stay-at-home parents often neglect life insurance, assuming it's meant for working parents only. They couldn't be more wrong.
Working parents who lose their loved ones are faced with the tall order of supplementing the at-home contributions they used to provide. Based on U.S. Census data, about 1 in 5 parents are stay-at-home moms or dads. That's a lot of guardians neglecting a crucial insurance policy.
By investing in life insurance, stay-at-home parents can help their surviving spouses overcome his/her loss by providing funds to cover the workload at home and pay off debt.
What you will learn:
Monetizing Contributions at Home
.
Stay-at-home parents (SAHPs) provide vital day-to-day functions for the family. Replacing the hours and labor that they generate is a serious challenge.
There is no set dollar value for maintaining a household, but when compared to paid services, the work that stay-at-home parents put in is really expensive. Anything from child care to upkeep for the house, supplementing lost labor at home requires a lot of money.
While family and friends can step in and assume some responsibility, surviving parents are faced with the brunt of the load. Both physical and financial responsibilities for two people must now be carried out by one – who also has a full-time job.
Think about the time-consuming tasks that stay-at-home moms and dads are typically responsible for, including:
Childcare
Overseeing tutors
Managing appliances, utilities and groceries
Home upkeep and improvements
Groceries, food preparation and cooking
Cleaning and laundry
The Stay-At-Home-Mom (SAHM)
.
The infographic below displays projected SAHM salaries by the experts at Salary.com. The illustration details the type of labor SAHMs provide at home and how much each type is valued on the job market. While the research is from 2014, Salary.com recently published their 2018 salary projections for the average SAHM, displaying an increase of 37% over the last four years.
The total projected salary for the average American SAHM today is a cool $162K.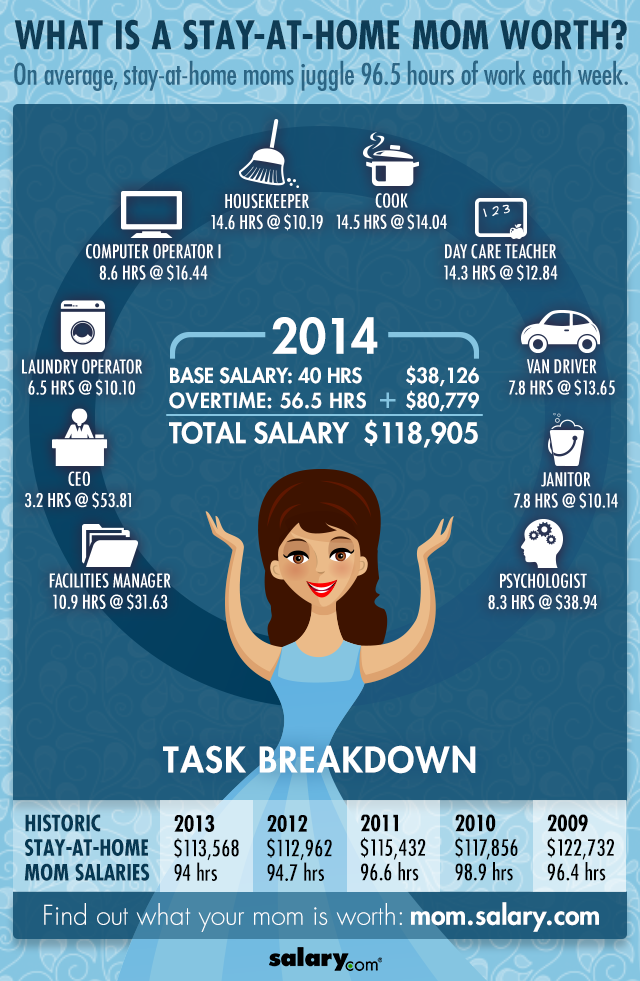 The Stay-At-Home-Dad (SAHD)
.
Similar to the one above, the infographic below displays projected salaries for SAHDs from 2014. We have yet to find the updated figures for 2018, but you can safely assume that they will continue to steadily rise as they did between 2011-14, hovering around a 7% increase every year.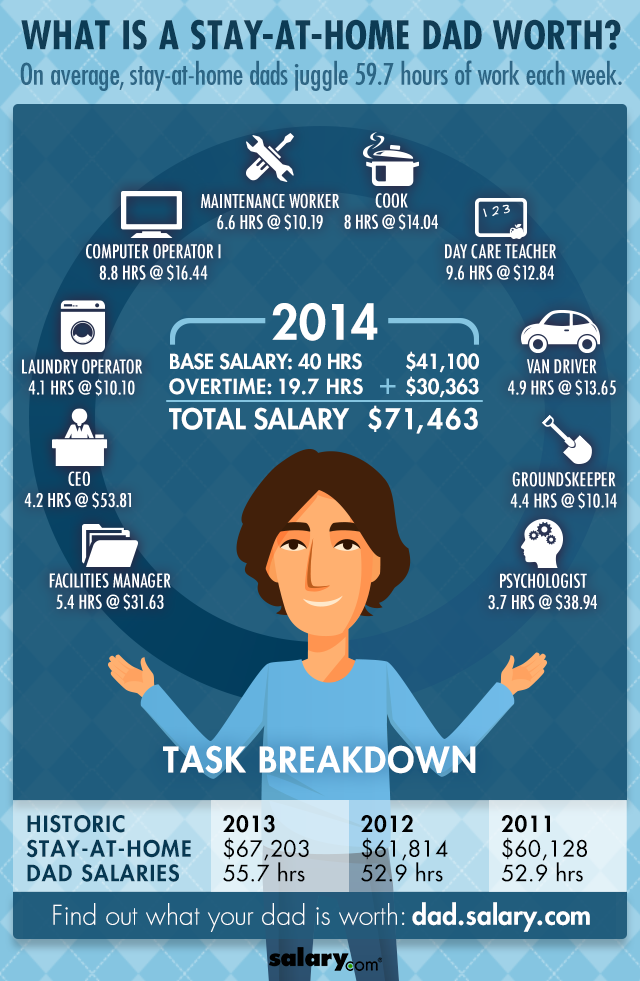 The sole purpose of life insurance is to provide your family with financial stability if something were to happen. While stay-at-home parents may not be the ones generating primary income, a family has a lot to lose if the parents staying at home passes away without a financial plan in place.
Insured SAHPs Maintain the Family's Financial Stability
.
Life insurance for SAHPs will help maintain your family's lifestyle. More importantly, the right policy will provide emergency funds that maintains your family's financial stability when the surviving parents working 9-5 must now assume the vacated responsibilities.
Life insurance for stay-at-home parents offers financial aid to:
Secure insurability: Good health is never a for sure thing and can change instantly. Investing in a life insurance while you are young and healthy guarantees lifelong coverage. This will give you comfortability if a health condition develops that makes it difficult to afford life insurance.
Losing a partner unexpectedly is an extremely difficult tragedy that families endure. Worrying about labor, unsettled debts, and other expenses might add more stress onto the grieving process. With life insurance, you can cover those costs and help family members focus on their day-to-day responsibilities, as opposed to adding on new ones.
Considerations for a Life Insurance Policy
.
If you make the smart decision of investing in life insurance for you or your spouse, now is the time to:
Choose a trusted life insurance agent
Ensure that the working parent is covered first for equal or less coverage
Decide how much coverage you will need
Decide which policy and carrier is best suited for your family
There are two different life insurance options, term life insurance or whole life insurance, that will be beneficial to you depending on your situation. Consider these differences between both options before making your decision:
In conclusion, life insurance is equally important to stay-at-home parents as it is for working parents. Schedule a consultation with a life insurance advisor to learn more about your options and how to secure coverage that fits your budget and lifestyle.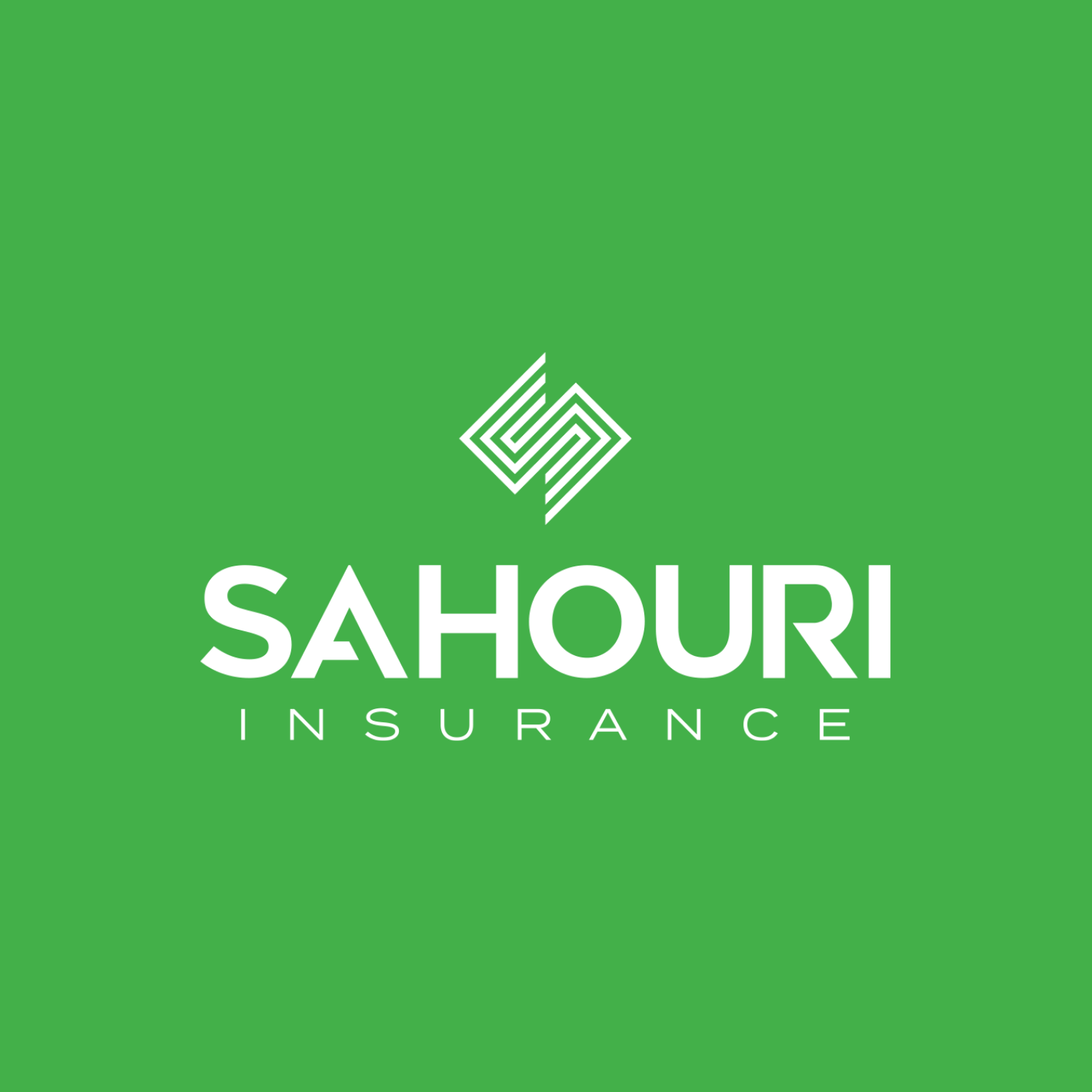 SAHOURI
As an independent insurance brokerage firm, we guide our Guests through a technology-driven, consulting-based experience that integrates corporate Risk, Health, and Benefits policies through one, centralized Advocacy Team.