Kidnap and Ransom Insurance

.
From high-ranking executives to students who travel or live abroad, there is a growing risk of kidnapping and extortion. Our Kidnap and Ransom Insurance program offers protection against extortion threats against your merchandise, property, proprietary information, and employees. If you travel frequently or live in high-risk areas such as Mexico, Colombia, Central and South America, the Middle East, or Africa, then you should consider purchasing Kidnap and Ransom Insurance.
Coverage Information
.
Legal Liability of the insured
Payment of Ransom
Wrongful detention of the insured
Dead or Dismemberment
Loss of income
Crisis Management Expenses
Expenses and fees of negotiators
High-jacking of the insured
Rehabilitation and Psychiatric care
Medical and Cosmetic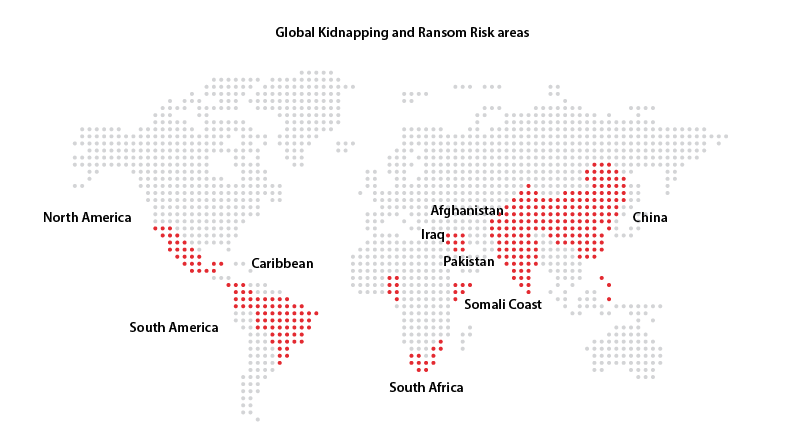 ---
There are about 20,000 global kidnappings every year."
---
Consider the cost of an extortion event
:
Negotiator Fees
Investigator Fees
Attorney Fees
Public Relation Fees
Forensic Analysts Fees
Security Guards and consultant Fees
Reward Money
Medical Costs not covered by your insurance plan
---
Crisis Response Experts

.
Our policies include access to kidnapping and ransom response experts who provide advice and support to your crisis management team and the victims' family throughout an incident. They have years of experience in dealing with crisis situations and their sole priority is the hostage's safe release.
Preventive Measures

.
Our security experts provide guidelines and tips to help reduce the possibility of an attack. We also offer resilience reviews and comprehensive training for personnel who travel to high risk locations.
---
3

Reasons why you need Kidnap and Ransom Insurance

.
Your employees travel or live abroad
.
If your employees are traveling or working in areas prone to kidnapping abroad then they may be at high-risk for kidnapping and extortion threats.
You are a media organization
.
If you have reporters, photographers, and journalists who are traveling to hot spots around the world, then Kidnap and Ransom insurance would help protect your employees and business in the event of an extortion event.
You are an affluent or high-profile traveler
.
The more prominent and affluent you are, the more you are at risk for kidnapping and ransom threats.
Request a Free Insurance Quote!
We specialize in helping successful homeowners and businesses succeed with rich coverage options, competitive rates, and
award-winning service that makes every client proud.
Insurance Made Simple Blog
.
Sharing every day scenarios, trends and best practices in plain english for homeowners and professionals. Learn more with insurance made simple!
Award-Winning Culture
.
We are proud to be recognized by our community and industry for service, production and culture.